WELCOME TO MY WORLD
A little glimpse into my daily life
Nytår er en af de eneste aftner i året hvor man kan tillade sig at være så fin som muligt, uden at man behøver at tænke på om man er "for meget". Ikke for at sige, at man behøver at gå all in, da en fin sort kjole med de rigtige accessories kan være lige så flot som en gulvlang sequins kjole. Men nytår er en af de aftner hvor man kan, og hvorfor så ikke gøre det 😉
Det er personligt forskelligt hvad jeg klæder mig i til nytår, men som regel er det altid kjole. En smuk nederdel kan være ligeså smuk, og endda også bukser – så har lavet 3 nytårs tips til jer. En jeg har stylet med kjole, den anden med nederdel og det sidste med et par bukser. Jeg vil gerne vise jer, at fordi det er nytår kan man være ligeså lækker i  et par fine bukser som i en kjole.
New Year is one of the only nights of the year where you can dress as fine as u want. Not to say that you have to go all in. A nice black dress with the right accessories can be just as pretty as a floor-length sequins dress. But the New Year is one of those nights where you can 😉
It's personal differently what I dress in New Year eve, but usually it's always a dress. A beautiful skirt can be just as beautiful, and even pants. Therfore I've made 3 New Year's tips for you. A I have styled one with a dress, the other with a skirt and the last with a pair of pants. I want to show you that because it's New Year eve, you can be just as pretty in a nice pair of pants as in a dress.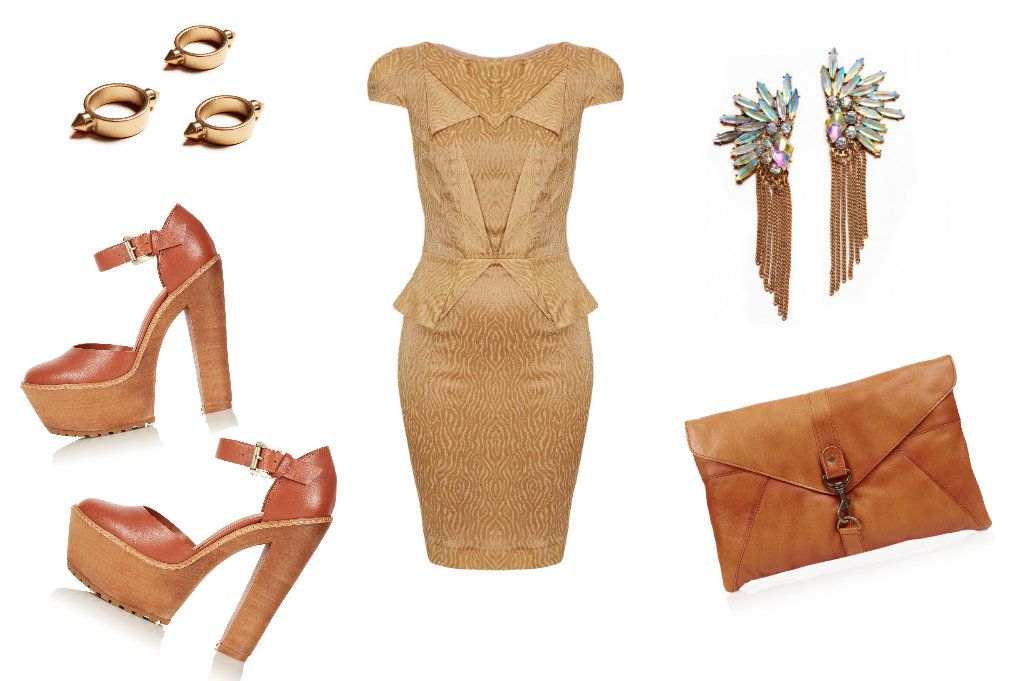 Dress: Topshop   Shoes: Topshop  Clutch: Topshop   Jewellery: Carrooco.se
Jeg elsker denne smukke kjole! Dette nytårsoutfit har jeg holdt i de lidt jord/guldlige farver. Jeg synes træ og brun går utrolig godt med guld, så satte en flot brun læderclutch til. Flotte statement øreringe fra Carrooco.se og nogle simple guld ringe. Hertil ville jeg tage en brunlig makeup på, men en mørkebrun neglelak.
I love this beautiful dress! This New Year's eve outfit, I jused the little brown/gold colors. I think wood and brown goes very well with gold. I styled the dress with this nice light brown leather clutch, beautiful statement earrings from Carrooco.se and some simple gold rings. With this outfit I would wear a brownish makeup, and a dark brown nail polish.
Skirt: Topshop   Top: Topshop   Clutch: Topsop   Shoes: Topshop  Necklace: Asos
Dette outfit synes jeg er et super eksempel på et festligt nytårsoutfit. Den højtaljede nederdelen er flot og tight, så valgte at style den med en sort lidt kort løs top med enkelte stroppe. Outfittet mangler it pift, så det har jeg tilført ved hjælp af smykkerne, og cluthen. Hertil ville jeg have en rød læbestift og en farvet neglelak.
I think this outfit is a super example of a New Year's eve outfit. The high-waisted skirt is nice and tight, so chose to style it with a black little short loose top with simple straps. The outfit is missing some colour, so thats shy I choose the colourful jewelery and the fluffy cluth. With this outfit I would have a red lipstick and a colorful nail polish.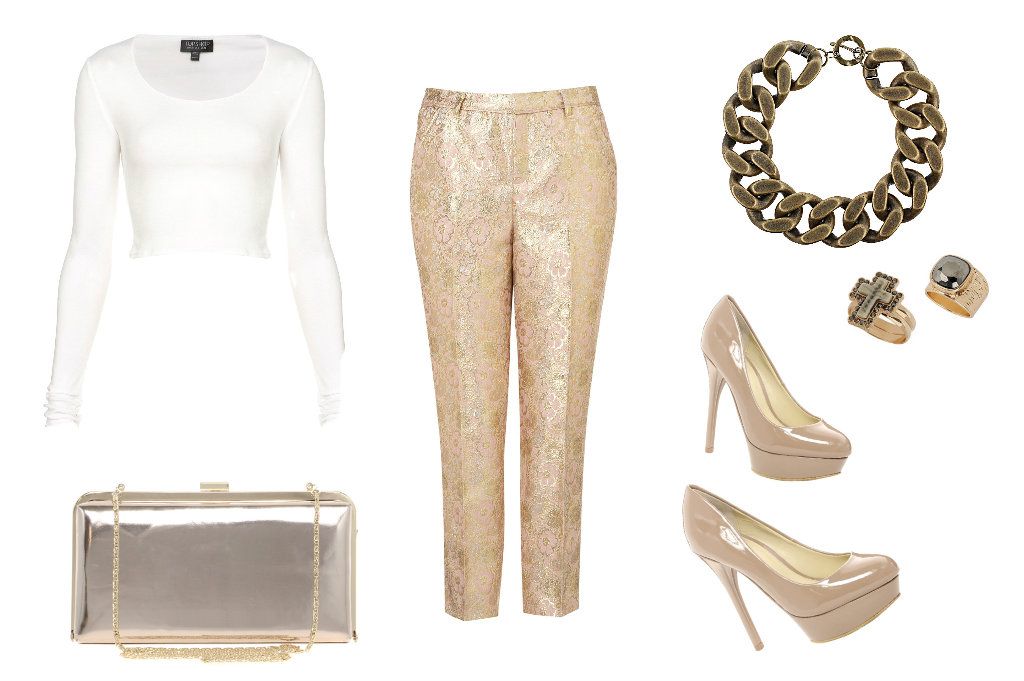 Pants: Topshop   Clutch: Asos   Shoes: Asos   Blouse: Topshop   Jewellery: Topshop
Mit 3 nytårsoutfit er stylet med bukser. Bukser behøver ikke at være kedeligt – tvært imod. Derfor har jeg prøvet at gøre dette outfit lidt spændende ved at vælge et par fine bukser med mønster og sætte dem sammen med en hvis croop bluse. På den måde er det mere spændende, fordi man lige kommer til at se en smule hud. Vælger at sætte en masse kræftige smykker på tid, da outfittet på trods af buksernes mønster er meget simpelt, da jeg har valgt at holde det i de guld/crem-lige nuancer. Hertil ville jeg ligge en guld/brunlig makeup og evt. have mørkebrune læber. Hertil ville jeg ligge en mørk neglelak, for at give outfittet det sidste.
My 3 New Year's outfit is styled with pants. Pants do not have to be boring. Therefore I have tried to make this outfit a little interesting by choosing a nice pair of pants with patterns and put them together with a croop blouse. In this way it is more exciting, because you just get to see a little skin. Choosing to style it with a lot of big jewelry, because the outfit is very simple, because I chose to keep it in the gold/crem-shades. For this outfit I would wear a gold/brown makeup and dark brown lips. To give the last touch, I would wear dark nail polish. 
PREV. ITEM
NEXT ITEM
READ COMMENTS -
11 COMMENTS