WELCOME TO MY WORLD
A little glimpse into my daily life
Over hele sommeren er jeg blevet spamet med is billeder både på Instrgam og Snapchat, og jeg har hver gang tænkt at nu må jeg prøve at lave det selv. Det er ekstremt nemt, og noget du nemt kan lave med venstre hånd imens du har gang i andre ting i køkkenet. Til at lave disse sunde is behøver du heller ikke tusinde forskellige ingredienser, det meste har du allerede derhjemme i køkkenet, så det er bare at mikse det hele sammen. Du kan bruge lige de bær du ønsker, en blanding kunne også være super lækkert!
Alt du skal bruge:
Citron saft af en halv citron
Græsk yoghurt – nok til at fylde dine forme
Friske bær – jeg brugte friske brombær som jeg havde plukket fra mine forældres have
Honning
Through the whole summer I have been overloaded with ice cream images both on Instrgam and Snapchat, and every time I thought to myself that now it was about time to do it myself. It is extremely easy, and something you can fast make with your left hand while you're doing other things in the kitchen. To make these healthy ice creams you do not need to buy one thousands different ingredients, most you already have at home in the kitchen, so it's just to mix it all together. You can use whatever berries you prefer, a mix could also be super delicious!
Everything you'll need:
Lemon juice of half a lemon
Greek yoghurt – enough to fill your forms
Fresh berries – You can use any you like, I used blackberry I've found in my parents garden
Honey
Bland din græske yoghurt i en stor skål med dine friske bær, citron saft samt honning. Tilsæt nok så det passer til dine forme. Rør det hele godt sammen uden at ødelægge dine bær alt for meget. Smag til med flere bær, honning, citron eller yoghurt alt efter hvor søde du ønsker dem. Fyld din blanding i formene og kom i fryseren natten over.
God fornøjelse mine søde læsere <3 Jeg håber du synes ligeså godt om dem som jeg! Lækker sund snack til når man bliver lidt sukker sulten.
Mix your Greek yogurt in a large bowl with your fresh berries, lemon juice and honey. Add enough to fill your forms. Mix everything together without destroying your berries too much. Season with more berries, honey, lemon or yogurt depending on how sweet you want them. Add your mix into the forms and put it in the freezer overnight.
Enjoy my sweet readers <3 I hope you'll enjoy them just as much as me! Delicious healthy snack for when you crave a bit of sugar.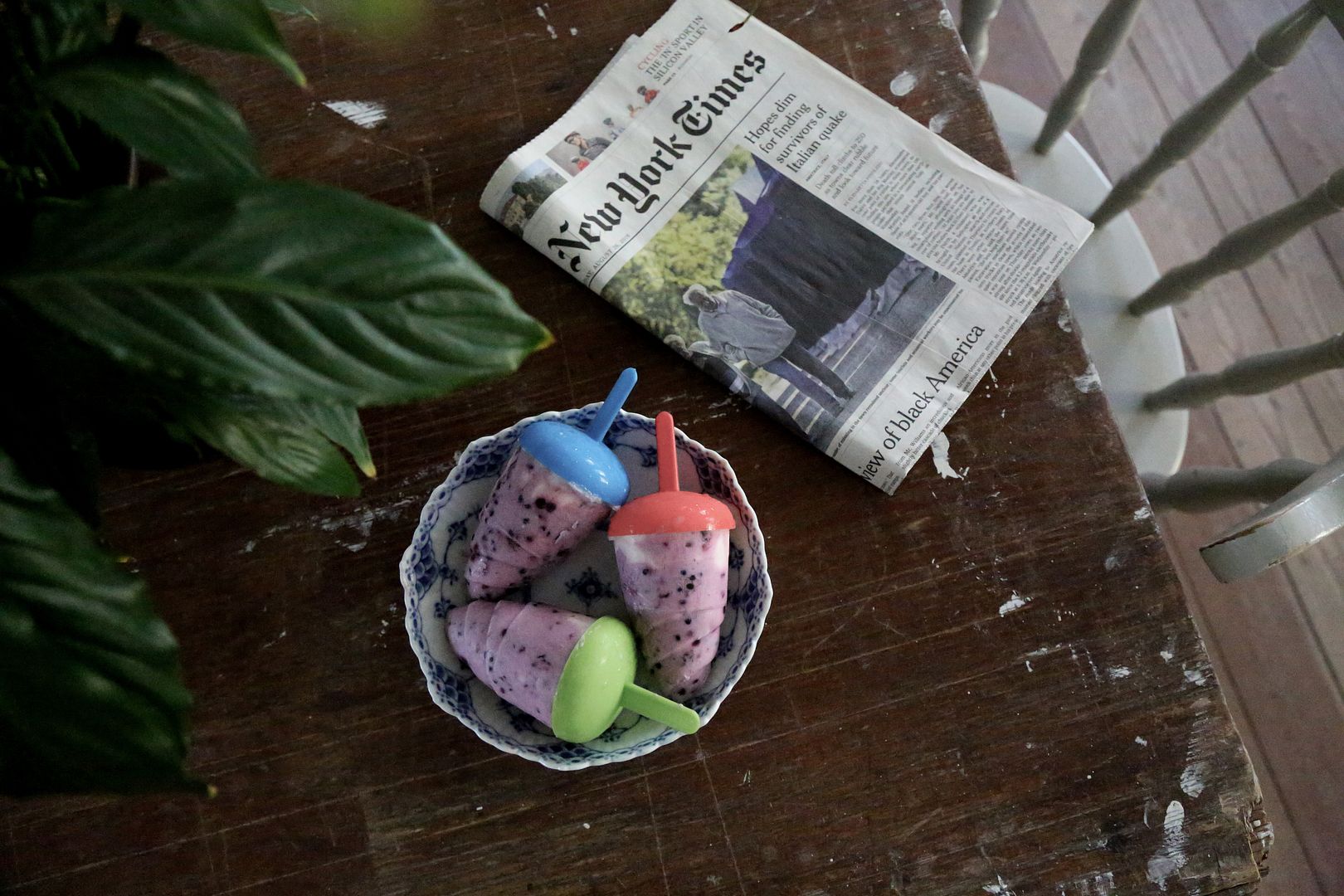 PREV. ITEM
NEXT ITEM
READ COMMENTS -
2 COMMENTS